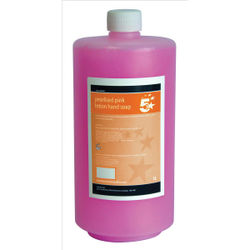 Price checked by our teams to give you our best price!
807419
5 Star Facilities Lotion Hand Soap Pearlised Pink 1 litre
£2.10
Expected delivery within 1-3 days
5 Star™ Facilities hand soap is ideal for washrooms and kitchen areas in the workplace or home. It is ideal for use in dispensers.
Pleasant pink pearl soap
Pink lotion is an economical pearlised hand soap suitable for all environments
Colour: Pink
Manufacturer: Spicers
Brand: 5 Star facilities
Type: Hand Soap, Creams & Lotions
Size: 1 Litre
Antibacterial Protection: No
On Promotion: No
Pack Size: 1 Litre
Fragrance: Fragrance-free
Fragranced: No
Quantity in Pack: x1 Hand Soap
Form: Hand Soap
Spicers Ref: 936546